Jennifer's Service Department Accolades

href="//pictures.dealer.com/j/jennifersgreenacresautosal/1453/a11d2a2674181cc8d1a97f7855a407b7x.jpg" class="wysiwyg-image" tabindex="30000" style="border-width: 0px; border-style: none; border-color: #000000; height: 100px; width: 153px;" title="AAA Approved Auto Repair Shop" align="right">
AAA Approved Auto Repair Shop:
AAA approval reduces stress and risk by providing guaranteed, quality service for auto repair and auto body repair. 
AAA approval means guaranteed, quality service from facilities that meet strict requirements and that offer a full range of services. In short, AAA approved facilities:
Meet or exceed AAA's exacting standards regarding equipment and certified mechanics and have a track record of customer satisfaction.
Guarantee service or repairs (under normal conditions) for 12 months or 12,000 miles, whichever comes first.
Must offer you a written estimate; if requested in advance, return your replaced parts; and have your approval before doing any work beyond the estimate.
Agree to let AAA arbitrate any disputes regarding quality of service or repairs.
Provide complimentary vehicle inspections at participating facilities.
Accept checks under the AAA member guaranteed check acceptance policy.
In addition, AAA approved facilities must offer the following services:
Brakes
Engine performance
Electrical systems
Minor engine repair
Facilities may also offer services to repair:
Automatic transmission
Heating and air conditioning
Major engine problems (including diesel engines)
Manual transmission and rear axle
Tires, steering and suspension (Source: AAA)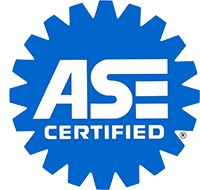 ASE Blue Seal of Excellence: 
What is ASE? ASE Stands for the Institute for Automotive Service Excellence. The ASE is the only recognized organization that trains, assesses and certifies auto repair professionals. When technicians want to improve their skill levels, they begin the testing process to become an ASE Certified or Master Technician. They enroll in training programs and use their experience to pass the certification assessments. When technicians receive their certifications, it means they are qualified to perform the auto repair services that they have tested for. A Master Technician possesses multiple certifications in many auto repair areas of expertise.
What is the ASE Blue Seal of Excellence Recognition Program? To receive the Blue Seal of Excellence a repair shop must have an ASE Certified staff member for every service offered as well as have a high percentage of ASR certified employees. (Source: ASE)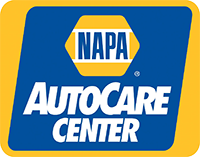 Certified NAPA Auto Repair Center:
NAPA Auto Repair is designed with today's consumers in mind. NAPA knows that a primary concern for consumers is to find a reputable repair business that performs quality work and at a fair price. NAPA Auto Repair is not a franchise, but rather, a quality standard where independent repair business owners are invited to join based upon their community reputation, integrity, qualifications and expertise. Wherever your travels may take you, as well as right within your community, you'll find a NAPA Auto Repair Center that can professionally take care of all your vehicle needs. Consumers consistently select a NAPA Auto Repair Center because of the trust and confidence they have in NAPA quality parts and NAPA Auto Repair's commitment to excellence and best in class service. Taking care of your car's health is an important part of protecting your investment and protecting your family. (Source: www.napaautocare.com)